Over the last 25 years it's been a pleasure and honor for me to serve our community by performing Hindu religious ceremonies. It's my priority to make each function as stress-free and enjoyable for everyone involved by being organized, punctual, easy to work with, and respectful.
I perform pujas and weddings in San Diego, Orange County, Los Angeles, the Bay area, throughout California and to any domestic and international destination. For years I have been performing Hindu weddings in Cabo, Puerto Vallarta, and Cancun Mexico.
All donations and daksina are tax-deductible.
Dharmasetu Corporation is a registered nonprofit operating in California with 501(c)(3) approval from the Internal Revenue Service. All donations are tax-deductible to the extent allowed by law.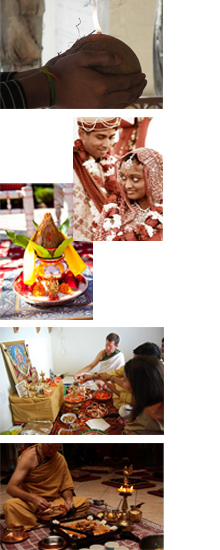 Weddings
Vag-dhanam (engagement)
Ganapati and Mandapa Sthapanam/Grahsanti Pujas (before wedding)
Simantonnayanam (baby shower)
Nama Karana (name giving)
Anna Prasana (first grains)
Cuda karanam (hair cutting)
Upanayanam
Santi Homa
Bhumi/Vastu Puja (before construction of home/business)
Griha-pravesa/Vastu Puja
Mrityumjaya Havan (for health and longevity)
Sri Satyanarayan Swami Puja/Katha
Sri Laksmi Puja
Murti Installation (for temple or home)
Funerals
Sraddha (memorial services)
Vastu consultation (simple)
Classes for adults and children